Starterkit armStone™A9 Windows
The armStone™A9 in PicoITX format has standard connectors for 10/ 100/ 1000 Ethernet, 2x USB Host, USB Device, as well as Audio Line Out, DVI, SATA and on the bottom side mPCIe. A power plug was assembled to supply the board with 5V. The two LVDS display channels are once on a 25pol socket and once both on a JILI30 connector (for dual channel LVDS). The alternative RGB display interface is on a 34-pole ESCDI interface. The resistive touch or capacitive touch controller (I²C) is connected via another 6-pole socket or the ESCDI display adapter. An USB Host interface is located on a 4-pole pin strip. Further interfaces are found on J1, and a 10-pole pin strip was already equipped for COM1.
There are two versions of the armStone™A9-SKIT available: Linux or WCE 6.0 R3/ WEC 7. The armStone™A9 starterkit consists of the armStone™A9-V1-WEC7 (with 1GB RAM, 128MB Flash, Audio, Ethernet, CAN, PCIe, SATA and a resistive touch controller on the display adapter). Furthermore we have equipped the RGB interface (34-pole ESCDI), as well as both LVDS interfaces.
One can connect a RGB display and two LVDS displays simultaneously. A bootloader and a WEC 7 kernel are already pre-installed. It is also possible to install another available operating system for testing purposes and to develop software for armStoneA9. WCE6.0 and WEC 2013 are available.
The scope of delivery of the starterkit contains an additional cable set, a 7" WVGA TFT with resistive touch panel and the fitting display adapter with film cable. On a supplement you can find the access data to documentation and software.
The starterkit also comes with a finned heat-sink on the CPU, please note that these finned heat-sinks are not contained in volume deliveries.
Additionally, we offer a 4-hour Workshop. The goal of the workshop is, to learn how to handle the armStone™A9 starterkit and completing it with a running system. Under Windows, Visual Studio .NET is brought closer to you.
Scope of Delivery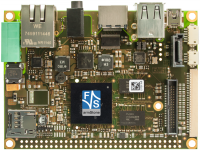 aStoneA9-V1-WEC7
NXP i.MX 6Quad Cortex-A9, 1GB RAM, 256MB Flash, Gb Ethernet, CAN, Audio, PCIe, SATA, Touch, RGB, LVDS, DVI, 0°C-+70°C, 5V Supply, Windows Embedded Compact 7
SKU:
aStoneA9-V1-WEC7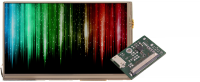 Displaykit RGB 2
7" WVGA Display with RGB interface and touch panel, connection cable (40pol film cable), display adapter and touch cable
SKU:
aSt-RGBKIT

Cable Kit
USB Device Cable, Ethernet Cable, RS232 Adapter, Nullmodem Cable, Power Plug and USB Stick with access code to software and documentation (necessary to start the development).
SKU:
SINTF-CABKIT
Accessories
.NET Drivers
Driver package for retrofitting, consists of C# drivers for I²C/ SPI/ CAN, as well as the SPI driver in C++.
SKU: WCE-DOTNET
500,- €
 
UpDate Software
This program package allows a safe and easy update of the application program and the operating system via USB Stick or SD Card.
SKU: WCE-UPDATE
500,- €
 
Boot Screen
Shows the device's user a starting procedure while booting (BMP File).
SKU: WCE-BOOTSCREEN
500,- €
 
Custom Kernel
Creation of a customer-specific kernel. Windows CE components are set as the customer requests, as well as the registry entries (e.g. display). Customer-supplied software can also be added.
SKU: WCE-CUSTIMAGE
500,- €
 
Failsafe Flash Filesystem (F3S)
The Failsafe Flash Filesystem F3S offers transaction safety on file level and therefore guarantees the consistency of the data, even in case of a blackout or other interferences while writing.
SKU: WCE-F3S
1,000,- €
 
USB Stick
USB Memory Stick with common memory size (2GB+) and imprinted F&S logo. The USB Stick was tested on all current F&S boards.
SKU: USBSTICK.1
20,- €
 
I2C Erweiterung
Circuit for an external extension with GPIOs, AID, PWM and matrix keyboard. This external circuit is connected via I²C Bus.
SKU: NDCU-ADP/I2C
80,- €
 
LVDS Kabel SINTF-LVDS-JAE
LVDS cable with JAE FI-S20S on display-side
SKU: B.MKAB.29
70,- €
 
LVDS Kabel SINTF-LVDS-DF19G-30S
LVDS cable with Hirose DF19G-30S to JAE FI-X 30 SSLA on board side
SKU: B.MKAB.32
70,- €
 
Displaykit RGB 2
7" WVGA Display with RGB interface and touch panel, connection cable (40pol film cable), display adapter and touch cable
SKU: aSt-RGBKIT
170,- €
 
armStone™ Extension
Routes interfaces of the 66pin feature connector to standard connectors.
SKU: aStone-ADP-UNI1
130,- €
 
Resistive Touch Kit
For connecting a resistive Touch panel to F&S boards with 4-poles touch connector.
SKU: SINTF-ADP-RESTOUCH
35,- €
 
Resistive Touch Kit 2
For the connection of a resistive touch panel to boards with 6pol Hirose socket.
SKU: SINTF-ADP-RTI2C
Request
 
Display Adapter Board to EDT Unified Series
Helps to connect a 7" WVGA display by EDT (ET070080DH6/B.LCD.15) with RGB interface and resistive touch panel
SKU: aSt-ADP-EDT1
50,- €
 
armStone™/ efus™/ PicoCore™ DVI Adapter
Connects armStone™, efus™ or PicoCore™ to a DVI/ HDMI screen.
SKU: aStone-ADP-DVI
50,- €
 
PCAP Touch Kit for EDT
Kit to connect an EDT PCAP touch panel
SKU: SINTF-ADP-EDTTOUCH
35,- €
 
7" EDT Display
7" TFT (WVGA) EDT ET070080DH6
SKU: B.LCD.15
120,- €
 
Workshops
Workshops for F&S Boards with Windows Embedded Compact or Linux - Beginner Workshops - Qt 5 - Asymmetric Multiprocessing - Secure Boot
SKU: NDCU-WS1
Request
 
7" LVDS Display with PCAP Touch
7" TFT LVDS Display with PCAP Touch (J070WVTC0211)
SKU: B.LCD.19
200,- €
 
LVDS Cables for 7" LVDS Display
LVDS Cables for 7" LVDS Display (B.LCD.19)
SKU: B.MKAB.51
50,- €
 
7" RGB Display with PCAP Touch
7" RGB Display Endrich MI0700AJT-54CP with capacitive Touch
SKU: B.LCD.18
150,- €
 
50poles Film Cable
Cable for 7" RGB Endrich Display (B.LCD.18)
FFC cable, A50pol., pitch=0,5mm, l=200mm
SKU: B.MKAB.41
10,- €
 
Displaykit 7" RGB - PCAP Touch
7" Display with RGB interface and capacitive touch panel, connection cable (50pol film cable) and display adapter.
SKU: KIT-TFT-7RGB
210,- €