16 August 2017
Start Your Development in Less Than an Hour - F&S Development Machine - Fedora 23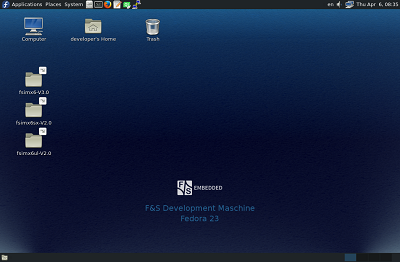 Fedora 23 is a VirtualBox Appliance based on Fedora 23, provided by F&S.
You will need less than an hour to start your development with this machine!
It is available for our customers for free.
VirtualBox is a high performance product for enterprise customers, it is also the only professional solution that is freely available as Open Source Software under the terms of the GNU General Public License (GPL) version 2.
The F&S Development Machine contains installed Board Support Packages for fsimx6, fsimx6sx and fsimx6ul.
The F&S toolchain is installed, the source code is extracted and ready to run. Needed system packages and essential tools are installed, too.
Besides that, it contains a configured environment for Qt development (QT5) with cross-compile/debug kit, deployment strategy and demo application.
Please notice that it is required to register on our website to download this machine.
➜ Download F&S Development Machine - Fedora 23
➜ Quickstart Dokumentation