31 March 2015
PCOMnetA5 - Single Board Computer with Freescale Vybrid Controller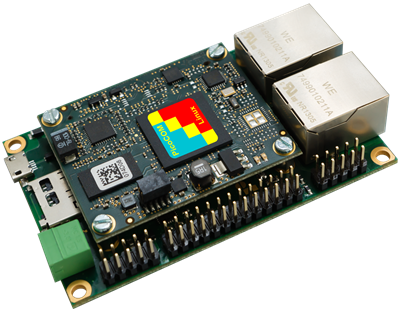 Our latest product, PCOMnetA5, is a compact Single Board Computer.
It is composed of a base board with plugged-on PicoCOMA5-V3-W13 or –LIN.
Numerous communication interfaces like 2x Ethernet, WLAN, 2x CAN and I²C make PCOMnetA5 your ideal partner for wide-ranging tasks in medical and industrial engineering.
18Bit RGB displays with resistive touch from EDT's Unified Series can be connected directly. Displays with PCAP Touch can be connected via I²C, using an additional adapter.
The plugged-on PicoCOMA5 module is based on a Freescale Vybrid controller (Single-Core Cortex-A5 @500MHz) and offers multimedia functions such as NEON and FPU.
Available memory is 128MB Flash and 256MB RAM.
Windows Embedded Compact 2013 and Linux (Buildroot) were customized and pre-installed.