5 December 2019
Fast Time-to-Market with COM Modules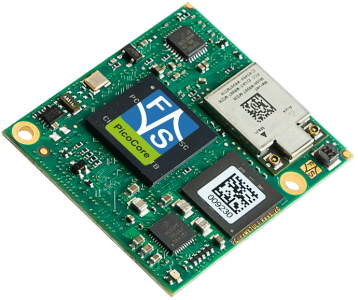 The new NXP i.MX 7ULP combines minimal power consumption and rich graphic user interface in one chip.
The new computer on module PicoCoreMX7ULP makes it easy to use these features in your own design.
Besides using i.MX 7ULP, the module implements all electronics to design a connected, battery powered handheld device.
In terms of hardware F&S combines the 7ULP with LPDDR3 memory, eMMC flash, power management logic and dual band WLAN with BT 5.0. All hardware is placed on a space of 35x40mm only.
On the software side F&S has adapted Buildroot and YOCTO to the board. Customers can start using the offered VHD directly with their application development.
A TFT can be connected to the board using the 2-lane MIPI-DSI interface. F&S has tested several MIPI-DSI displays and can help adapting new ones to the board. Additionally, F&S has tested MIPI-DSI to parallel RGB bridge to connect parallel RGB displays as well.
F&S has made measurements for the power consumption.
In run mode (LCD on, idle) the module needs 280mW only. In deep power down mode, the module consumes around 12 mW.
Because F&S has software, hardware and production in house, it is also possible to create a customer-specific version based on the NXP i.MX 7ULP using the proven design of PicoCoreMX7ULP.