27 July 2015
F&S Production Expansion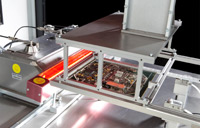 We are pleased to announce that we have expanded our production.
Our new selective soldering machine complements our machinery and improves our capacities.
We also replaced our vapor phase soldering machine with a newer one to handle higher volumes.
All F&S products are "Made in Germany": our production is in our company premises in Stuttgart on highly modern production facilites and ISO9001 certified.